BMW DIFF REPAIR PARTS
All our BMW differential rebuild kits are supplied with new bearings, oil seals, spacers and pinion bearing preload information. BMW diff rebuild tools also available.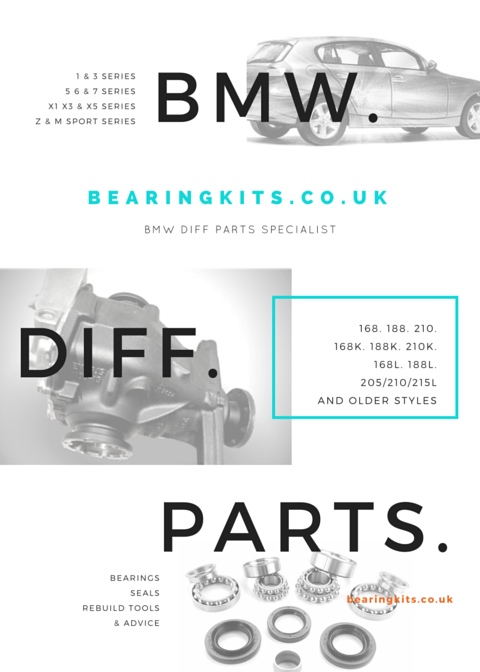 This category shows rebuild parts available for the following BMW differentials:
BMW 1 series E87 / E81 / E82 / E88 & F20/F21
BMW 3 series E90 / E91 & E92 / E93, F30 / F31 & F34
BMW 5 series E60 & E61
BMW 6 series E63 & E64
BMW 7 series E65 E66 & E67
BMW M3 E36 / E46 / E90 / E92 & E93
BMW M5 E39 / E60 & E61
BMW X3 E83 & F25
BMW X5 E53 & E70
BMW Z4 E85 & E86
and a range of diff rebuild bearings and parts for the older classic BMW differentials
Differential noise & failure is a very common fault with the BMW 1 series and later 3 series as they use the twin tandem ball bearings on the diff pinion. The same applies for many other models since 2004.
Your problems normally start with a faint whine and as the bearings wear you will be able to vary the noise with the throttle pedal. KOYO bearing 7531620 03 / bmw koyo 7525256 03 / koyo japan 7537981 02
Eventually the bearing wear will cause total failure of the diff unit resulting in a worn or broken crownwheel & pinion set (Ring & Pinion).
It is advisable and cheaper to rebuild this type of BMW diff when the noise starts. koyo 7537980 02

Rebuild spares available include BMW differential bearings and oil seal kits.
bmw diff bearing fag ina f 234975 / f 234976 / f 234977. Bearing rollenlager fag f-237541 / ina f 237542 / fag f 237543 rodamiento de rodillos, rolamento, roulement koyo
Please note, not all parts are available for all variations, please make enquiry with your VIN number so we can help you.
BMW 1 Series E81 E82 E87 E88 F20 F21 Differential rebuild parts


Differential noise is a very common problem on the 1 Series, it affects all models and all sizes of diff.Most noise issues are caused by worn pinion bearings, the bearings are a ball roller type and commonly fail from around 70,000 miles. It is an easy job to replace them.Most BMW early 1 Series built until end 2007 use the small case diff, but from 2007 on they can be a mix of small, medium and large case types.Please send over your VIN number if you are not sure what size noisy diff your BMW is running and we can check for you.

BMW 3 Series E90 E91 E92 E93 F30 F31 F34 F35 Differential repair parts


The BMW 3 Series from model E90 2004 on suffers from the same diff bearing noise problems as the smaller 1 SeriesThere are three common sizes of differential on the 3 Series built from 2004 to 2014, please send your VIN number if you do not know what size diff your car has.

BMW 5 Series E60 E61 Differential repair spares


The BMW 5 Series chassis type E60 & E61 is fitted with about seven types of rear differential that can be noisy.From M54 engine type through to S85 they can all suffer mileage related bearing noise faults. Some more than others.This category shows a few variations we have in stock, however it is best to let us know your VIN number so we can determine if bearings and parts for your BMW 5 Series diff can be supplied.

BMW 6 Series differential rebuild spare parts


The BMW 6 Series version E63 and E64 uses no less than eight versions of rear drive differential unit.You will need to provide the VIN number from your 6 series for us to help you order your rebuild parts.Bearings and seals vary from type to type.

BMW 7 SERIES DIFFERENTIAL SERVICE PARTS


The BMW 7 Series with chassis type E65 E66 & E67 uses four common styles of rear differential, some are very robust and reliable, some less so.In this category you will find rebuild spares for various types of BMW 7 series diff.Please send your VIN number for help identifying whack style of differential you have.

BMW M3 E36 E46 E90 E92 E93 Differential repair parts


The BMW M3 E90 / E92 / E93 rear differential has noisy bearing problems like all the others, normally starting at around 70,000 miles.It's best not to leave it to get worse, and don't add a "special" additive to quieten your diff down as this may stop the limited slip diff plates working properly.The earlier M3 E36 and E46 also suffer diff noise now, especially as they get older and have higher milage.Replace your M3 differential bearing as soon as you hear a whine from the rear.

BMW X-DRIVE FRONT DIFF REPAIR KITS


BMW X-DRIVE FRONT DIFF REPAIR KITS.Rebuild parts for the BMW Xd and XDrive front differential. Multiple variations of bearings and seals apply.Please enquire using the form below, send BMW VIN number and we will reply with quote.

BMW X1 REAR DIFF REBUILD KITS AND BEARINGS


BMW X1 rear differential repair parts and spares to recondition your noisy X1 diff.

BMW X3 E83 F25 Differential rebuild parts


There are three versions of the X3 E83 diff, and two types of the newer F25 X3 differential.Small case & medium, ball roller and taper roller bearings are used.We carry repair spares and bearings for some versions of the X3 E83 and later F25 differential but not all versions, we will require your VIN number to confirm type used.

BMW X5 front and rear diff repair parts and rebuild spares


It's common knowledge now that the BMW X5 has a lot of problem with differential noise and failure, the problems affect both front and rear X5 diffs.In this category you will find parts to help repair your front or rear BMW X5 rear differential.There are a few types and they vary between E53 X5 and late E70 models and like other BMW cars there are a few sizes of diff dependant upon chassis type and engine size. The X5 model type is shown in the categories below, please ask if you do not see your type listed.

BMW Z4 E85 E86 Rear differential bearing rebuild kits


The BMW E85 Z4 with the 2.5i & 3.0si N52 engine often suffers with rear differential bearing noise from about 65,000 miles.The E85 S54 big engine version with limited slip diff less so, but newer BMW Z4 E86 N52 are just getting reports about the same noise issue.You will find various type of BMW Z4 diff rebuild kit in this category as there are five common types.

Classic BMW Differential rebuild kits pre 2005


A range of rear diff rebuild kits for classic BMW cars built before 2005 using only taper roller bearings.Kits available for most models from 1970 - 2005.Please email with your VIN number if you have a specific enquiry.

DIFF REBUILD PARTS FOR BMW BY DIFFERENTIAL TYPE AND SIZE


BMW differential rebuild and repair parts, bearings oil seals gears and spacers all categorised by diff type and style. Spares for all versions including the older 2002ti E3 168 188 210 230 - later 168K 188K 215K and newer 168L 188L 215L 225L. Also including a range of components for 168LW 188LW 215LW and 225LW and Light weight diff spares for 205AL and 225AL.
| | |
| --- | --- |
| | Just 1 left in stock! |
| | |
| --- | --- |
| Just 1 left in stock! | Just 1 left in stock! |
| | |
| --- | --- |
| Just 1 left in stock! | Just 1 left in stock! |
| | |
| --- | --- |
| Just 1 left in stock! | Just 1 left in stock! |
| | |
| --- | --- |
| Just 1 left in stock! | Just 1 left in stock! |
| | |
| --- | --- |
| Just 1 left in stock! | Just 1 left in stock! |
| | |
| --- | --- |
| Just 1 left in stock! | Just 1 left in stock! |
| | |
| --- | --- |
| Just 1 left in stock! | Just 1 left in stock! |
| | |
| --- | --- |
| Just 1 left in stock! | Just 1 left in stock! |
| | |
| --- | --- |
| Just 1 left in stock! | Just 1 left in stock! |
| | |
| --- | --- |
| Just 1 left in stock! | Just 1 left in stock! |
| | |
| --- | --- |
| Just 1 left in stock! | Just 1 left in stock! |
| | |
| --- | --- |
| Just 1 left in stock! | |
| | |
| --- | --- |
| Just 1 left in stock! | Just 1 left in stock! |
| | |
| --- | --- |
| Just 1 left in stock! | Just 1 left in stock! |
| | |
| --- | --- |
| Just 1 left in stock! | Just 1 left in stock! |
| | |
| --- | --- |
| Just 1 left in stock! | Just 1 left in stock! |
| | |
| --- | --- |
| Just 1 left in stock! | Just 1 left in stock! |
| | |
| --- | --- |
| Just 1 left in stock! | Just 1 left in stock! |
| | |
| --- | --- |
| Just 1 left in stock! | Just 1 left in stock! |
| | |
| --- | --- |
| Just 1 left in stock! | Just 1 left in stock! |
| | |
| --- | --- |
| Just 1 left in stock! | Just 1 left in stock! |
| | |
| --- | --- |
| Just 1 left in stock! | Just 1 left in stock! |
| | |
| --- | --- |
| Just 1 left in stock! | Just 1 left in stock! |
« previous
1
2
next »