HOME >> BMW DIFF REPAIR PARTS >> BMW X3 E83 F25 Differential rebuild parts >> BMW X3 Front diff noise repair parts
BMW X3 E83 front diff unit rebuild bearing kit for E83 Iron case type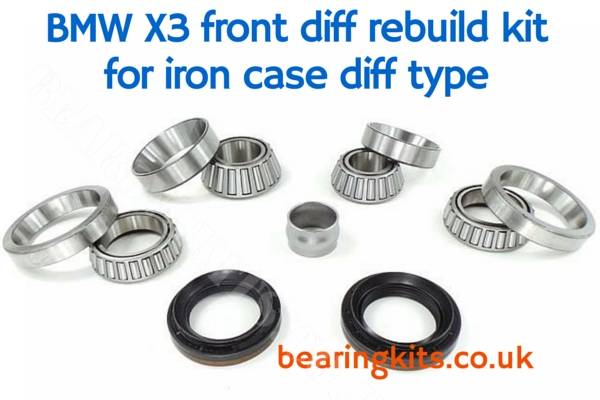 Rebuild bearing kit for the BMW E83 X3 front diff with cast iron casing.
This kit includes:
1 x Pinion head bearing
1 x Pinion tail bearing
1 x Pinion oil seal
1 x Pinion bearing preload crush spacer
2 x Differential carrier side bearings
1 x Differential driveshaft side oil seal
This repair set is for the E83 X3 with iron case, to check if your diff is iron put a magnet on the diff case.
.
** WE SHIP TO THE EU COUNTRIES LISTED IN THE SHIPPING OPTIONS BOX ONLY**
Note: If you are outside of the European Union please consider a shipping service like forward2me.com who
will ship to Australia and other countries for you, click the link below. (
Except USA / Canada)

Customers not in Europe often use the service at
www.forward2me.com
for shipping to destinations outside the EU. (Except USA / Canada). Plenty of similar shipping services are available.