HOME >> BMW DIFF REPAIR PARTS >> BMW X3 E83 F25 Differential rebuild parts >> BMW X3 Rear differential repair kits and service parts
BMW X3 SERIES 4 bolt REAR DIFFERENTIAL NOISE REPAIR KIT




The older early style BMW X3 series E83 suffers badly with rear diff noise problems. Rebuilding it using the parts in our rear differential service kit should solve your whining noises with just a few hours work.

Kit includes:

1 x Pinion head bearing
1 x Pinion tail bearing

1 x Preload spacer
2 x Differential carrier side bearings
2 x Driveshaft oil seals
1 x Pinion oil seal.




IMPORTANT: Please send your VIN number or bearing numbers as this kit will not fit all types of rear BMW X3 diff. We will not ship your parts until we have this information.




Currently we can offer kits for the following BMW X3 cars:




BMW X3 2.5i E83 with M54 engine and automatic gearbox




BMW X3 2.5si E83N with

N52N engine and automatic gearbox




BMW X3 3.0i E83N with N52N engine and automatic gearbox

F-239513 FAG INA bearings rollerlager roulement F-236120.3 FAG bearing roller lager roulement F-239495 FAG bearing rolerlager roulements rolamentos cojinetes KOYO

INA- FAG bearing number code

F239495 (1 piece)
F236120.03 (1 piece)
F239513 (2 pieces)


KOYO bearing number code :


7525259-02 (1 piece)
7531725-02 (1 piece)


7542102-02 (2 pieces)




SEARCH FOR OTHER PARTS HERE



.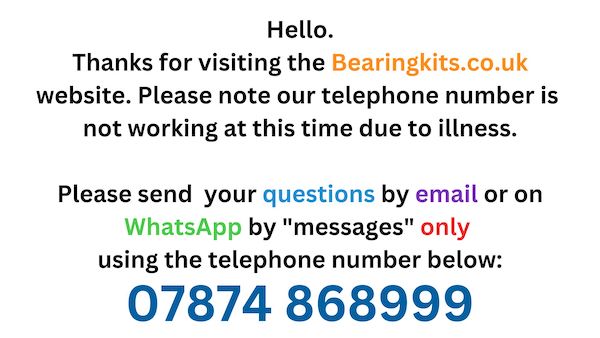 .