About us
Hello & welcome to my website, my name is Mark.
For the last 19 years Bearingkits.co.uk have been supplying high quality transmission repair parts for classic Ford cars and a few other popular classic cars.
I am very aware that you may only need to fix your gearbox, axle or differential once in your lifetime.
So, using my 39+ years of transmission rebuilding experience, i try hard to supply you with high quality branded parts that will help you repair and rebuild your classic car or sports car gearbox, axle and differential back to good condition.

Many of the parts we supply are now obsolete from the manufacturers, often i have to search high and low to find supplies, this often means our stock levels vary considerably as in 2023 it is hard to obtain many new transmission components for older Ford cars and other classics. Many spares have been obsolete for lots of years.

When our new parts stocks have been depleted, i may have, or be able to find you good secondhand rebuild parts, please feel free to ask for parts you cannot see. Please also note that often the rebuild kits, parts & spares you see on this website are available in quantities of ONE or TWO pieces, then they're gone.

A note regarding prices.

We live in an age when many things cost less than they did 25 years ago, like TV's and Radios etc.

"Copy" car parts, regardless of quality are often cheaper when they are made in large quantities like windscreen wipers and oil filters. Please note that most of our items come in small quantities & are often hard for us to find so prices will fluctuate.

Sad to say i cannot always offer you parts "cheap" and we do not sell "cheap parts", but what you will always find are high quality items offered here that represent good value. Also, we try hard to offer you good fast delivery service and free advice on the telephone or by email.

You will find some items on our website for sale at prices lower than they were in the 1980's and some a lot higher than 1980's prices. Prices will often reflect quality and obviously what we had to buy them in at. Some parts are totally as per original equipment, some are new high quality reproductions and some are "new old stock" to coin a phrase.

As you know, good quality and original equipment OE classic Ford car parts prices are generally a lot more expensive and a lot more hard to find than 5 years ago. Luckily the value of classic Ford cars are also a lot higher and it makes sense to invest in decent replacement parts.

I have been working with and using the parts we offer full time since 1983 and part time since 1977. If the spares are good we sell them, if they are not good we don't. I care a lot about what we sell to you.
As an example look at this quite expensive SKF wheel bearing kit
here
. These were used by Ford in the old days. Every week i speak to people that bought a cheap unbranded kit that now leaks oil.
Experience tells me it makes sense to do the job once, and to avoid future problems. So I use my experience to help you to do a good job first time, as a lot of work and effort is involved rebuilding a gearbox or axle, avoiding potential problems before they arise.
Generally it's a good idea to:
Fit new seals and gaskets to a secondhand used transmission unless you know its history (before fitting it)
Replace bearings that are know common weak points with the gearbox or diff unit.
Use better seals and gaskets than were originally available on older cars, like replacing leather seals or very thin paper gaskets with modern equivalents.
Use proper branded bearings not "cheap chinese" etc.
A little note on "UPRATING"
I get asked often "do you sell uprated bearings for......"
"because i have 250bhp going to my Ford English diff" etc
Sure some parts can be uprated, upgraded, improved, and so on BUT....... the transmission component you want to uprate may not be suitable in the first place.
The best thing you can do to uprate is to do the job properly, and fit high quality items and match the transmission to your engine power/torque and car type.
A Ford English diff in a 500kg car may handle more power than when fitted to a 1500kg car etc but please remember it was originally made for a Ford Anglia.
The above are just things to think about, i am not a race car expert but i know when transmissions are overloaded they will break quicker !
Thanks for reading about us and i hope you enjoy using our website.
If you need any advice about the parts we offer, how to use them or just what spares you may need in the future, please feel free to MESSAGE me on:
Or use the email "contact us" page at the top of every page.
** Please note in February 2023 I suffered an illness and shipping may be a couple of days longer at this time**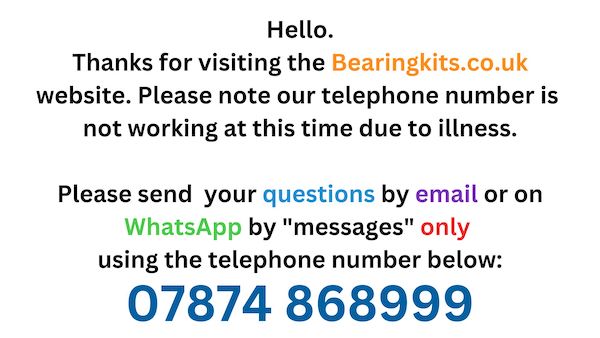 Contact.
.