HOME >> SKF WHEEL BEARING KITS
SKF Ford BABY ATLAS axle wheel bearing kit for Mk1 3.0 litre Capri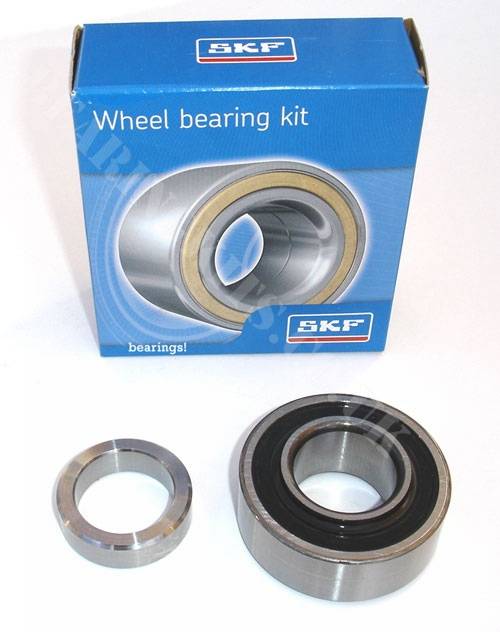 Ford "Baby Atlas" narrow rear Atlas axle wheel bearing kit by SKF

This wheel bearing kit will fit the Mk1 Capri 3.0 rear Atlas type narrow axle.

Each kit contains:




1 x SKF bearing (Note it has a **62mm outside diameter**)

1 x Narrow baby Atlas type retaining collar

Every week i receive calls from customers who have fitted the cheap far eastern version of this English axle wheel bearing kit saying their seal by the halfshaft and brakes is leaking and what should they do.

We first experienced this type of bearing (often with a rubber O ring on the outer diameter) in 2006 when we sold a few and had them returned for faulty seal issues.

I stopped selling them immediately.

Unfortunately this high quality SKF version of the Ford baby atlas axle wheel bearing is quite expensive compared to the cheap version sold by many other suppliers, so not everyone buys them.

So generally who buys them?
1, People who know about the high quality SKF brand, often used by Ford as original equipment, and want to keep the car as original as they can.


2, Classic car owners who have experienced or heard about the cheap leaking bearings and want to find a good solution to their problem


3, Customers who want to do the job once and know the extra money this bearing costs would far outway the cost of time and labour to fit a few cheap ones when they fail.


Sometimes the old saying
"you get what you pay for"
does still apply, whilst not all cheap products are poor quality some unfortunately are, and when you add up the cost of time and labour to replace the cheap type if they fail it may be wise to get the higher quality part in the first place.
Another problem (aside from the higher price) this SKF wheel bearing has is scarcity. In 2012 we sold out in January and did not manage to secure any more until October. Like many older parts for Ford cars now they are produced in lower quantities and at wider production intervals, often ending up completely obsolete.
I have a few in stock now (but not many) so if you may need a Ford baby atlas axle wheel bearing kit for next summer or beyond a purchase now may be a wise investment.
If you have any questions about this SKF wheel bearing kit or just want a bit of advice please feel free to call me on
(UK) 012 7979 3631
and ask for
Mark.
.