FORD GEARBOX PARTS
> FORD TRANSIT J2 GEARBOX PARTS
FORD GEARBOX PARTS > FORD TRANSIT J2 GEARBOX PARTS
Repair kits and spare parts to rebuild the Ford Transit 4 speed J2 type gearbox, including manual and Laycock/ Ford overdrive types.
The Ford J2 type transmission is 4 speed with a heavy iron case and was fitted to Transits with Essex V6, some 2.0 pinto and York type diesel engines.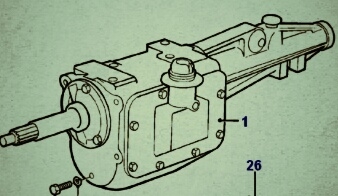 The tail housing can have a top rubber mounting or bottom stander Ford V shape mounting depending upon vehicle application and year of manufacture.
Early versions of the J2 gearbox can also be found with a rear flange that the props haft bolts to.
| | |
| --- | --- |
| | Just 1 left in stock! |
| | |
| --- | --- |
| Just 1 left in stock! | Just 1 left in stock! |
| | |
| --- | --- |
| Just 1 left in stock! | Just 1 left in stock! |
| | |
| --- | --- |
| Just 1 left in stock! | Just 1 left in stock! |
| | |
| --- | --- |
| Just 1 left in stock! | Just 1 left in stock! |
| | |
| --- | --- |
| Just 1 left in stock! | Just 1 left in stock! |